Old Black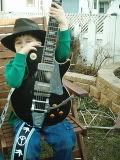 Joined: 18 Jan 2006
Posts: 1981
Location: Minneapolis
Posted: Tue Aug 08, 2017 8:09 am

Post subject:

---

This is by far my favorite forum. So much talent, great information sharing, and really great, decent people. I got such fantastic support from you guys a few years back when my son was going thru chemotherapy (BTW, he's doing GREAT). I am so grateful! So little snark or pettiness.

And I do like Roland's avatars.
_________________
"Start Scaring Seniors!"